Castle Heat Exchangers
Bespoke Cooling & Heating solutions, with a specialization in Castle finned tube heat exchanger design and manufacturing.
Castle Coils – Finned Tube Heat Exchangers
Our expertise lies in the fabrication of Castle Coil – finned tube heat exchangers. What sets us apart is our exclusive computer software, developed in collaboration with Massey University's School of Engineering and Advanced Technology.
Heat Exchangers are constructed using plate heat exchange fins and certified core tubes, reinforced with tube plates, core supports, and full panel work. These custom units can be manufactured with Mill finish, Epoxy coated or Hygienic T304 or T316 Stainless Steel, to provide long-term solutions for challenging environments and applications where hygiene is of utmost importance.
Our heat exchangers are available to accommodate various mediums, including hot, cold, or chilled water, refrigerant gas or liquid, clean or geothermal steam. They can also be configured with or without propeller, axial, or centrifugal fans, powered by AC, EC conventional, or flameproof motors.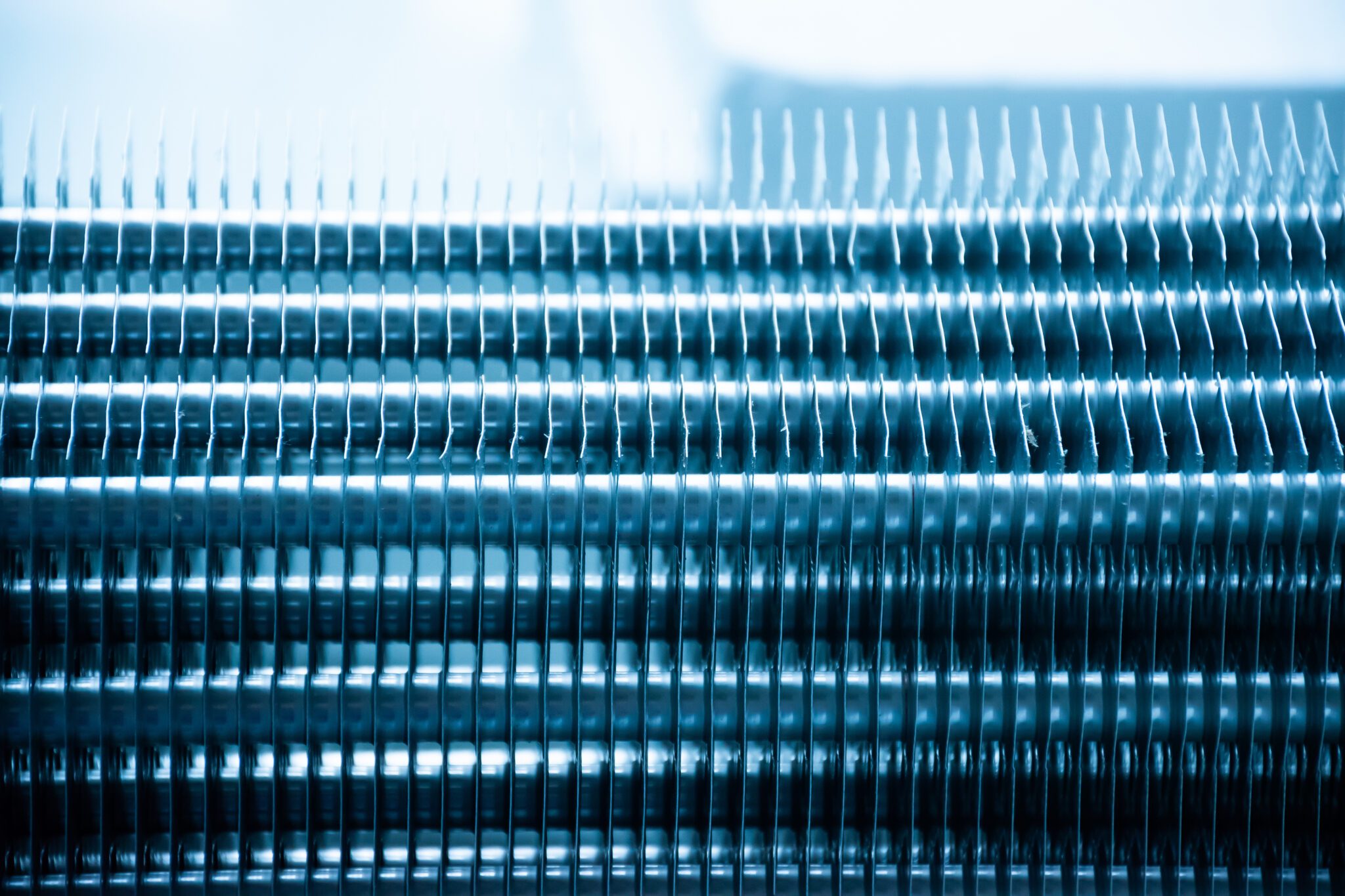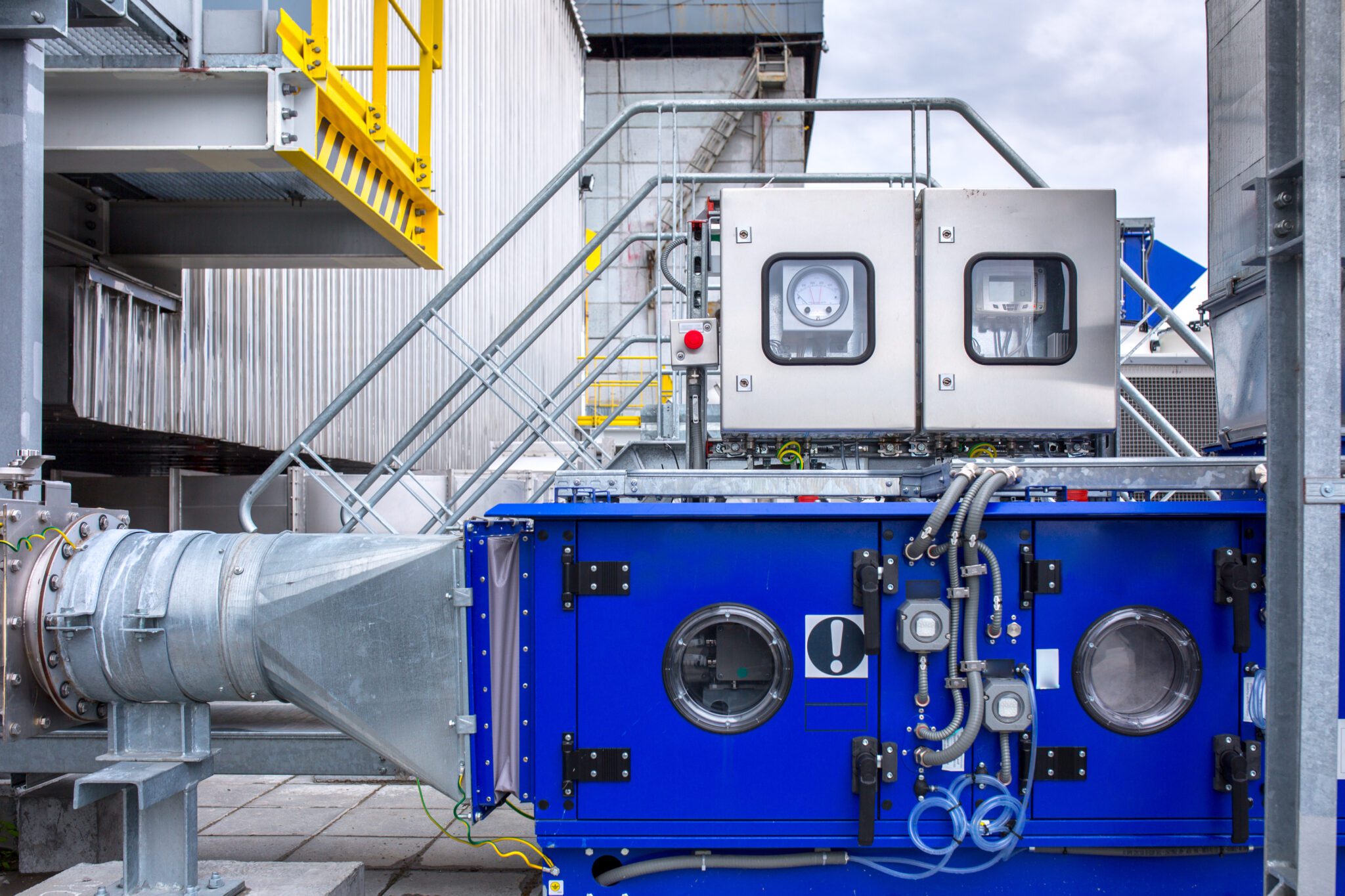 Our division specializes in delivering bespoke Cooling & Heating solutions tailored to the HEVAC & R market, serving clients both in New Zealand and worldwide. With over 77 years of experience in engineering heat exchange products, Steelfort is committed to meeting the precise 'time vs temperature' parameters necessary for the successful long-term storage of perishable goods.
Our manufacturing flexibility allows for heat exchangers with a finned face length of up to 5.5 meters and a finned face height of up to 2.0 meters. We offer fin pitch options ranging from 12mm to 2mm spacing, equipped with 180-degree return bends and tube headers featuring plain, flanged or threaded flow connections. Our heat exchangers are suitable for various mediums, including water, glycol, gas, oil, clean, or geothermal steam.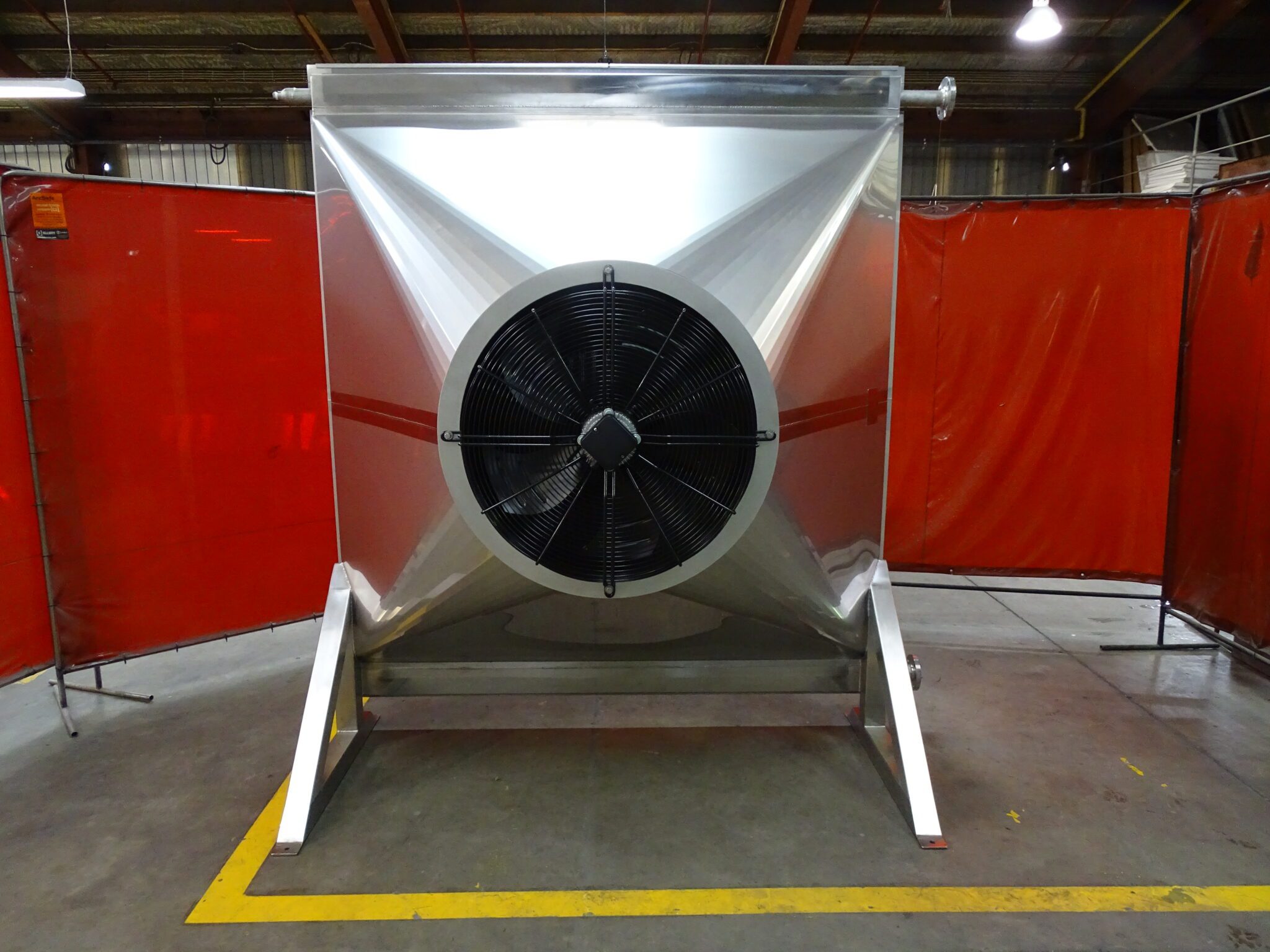 Our highly skilled team, with a wealth of experience and traditional craftsmanship, specializes in the fabrication of distinctive finned tube heat exchange equipment. This equipment is meticulously designed to cater to the processing and storage needs of New Zealand's renewable resources and perishable goods.
Coolers are constructed with either marine grade aluminium or powder coated EGMS. To ensure a totally hygenic and robust solution, we offer full panel work in T304 or T316 stainless steel, including the core tubes, return bends, and plate fins. You have a range of options to choose from, including AC or EC fan/motor sets, induced or forced draft configurations, air, electric, or water defrost systems, top or bottom mounting, and left or right connections.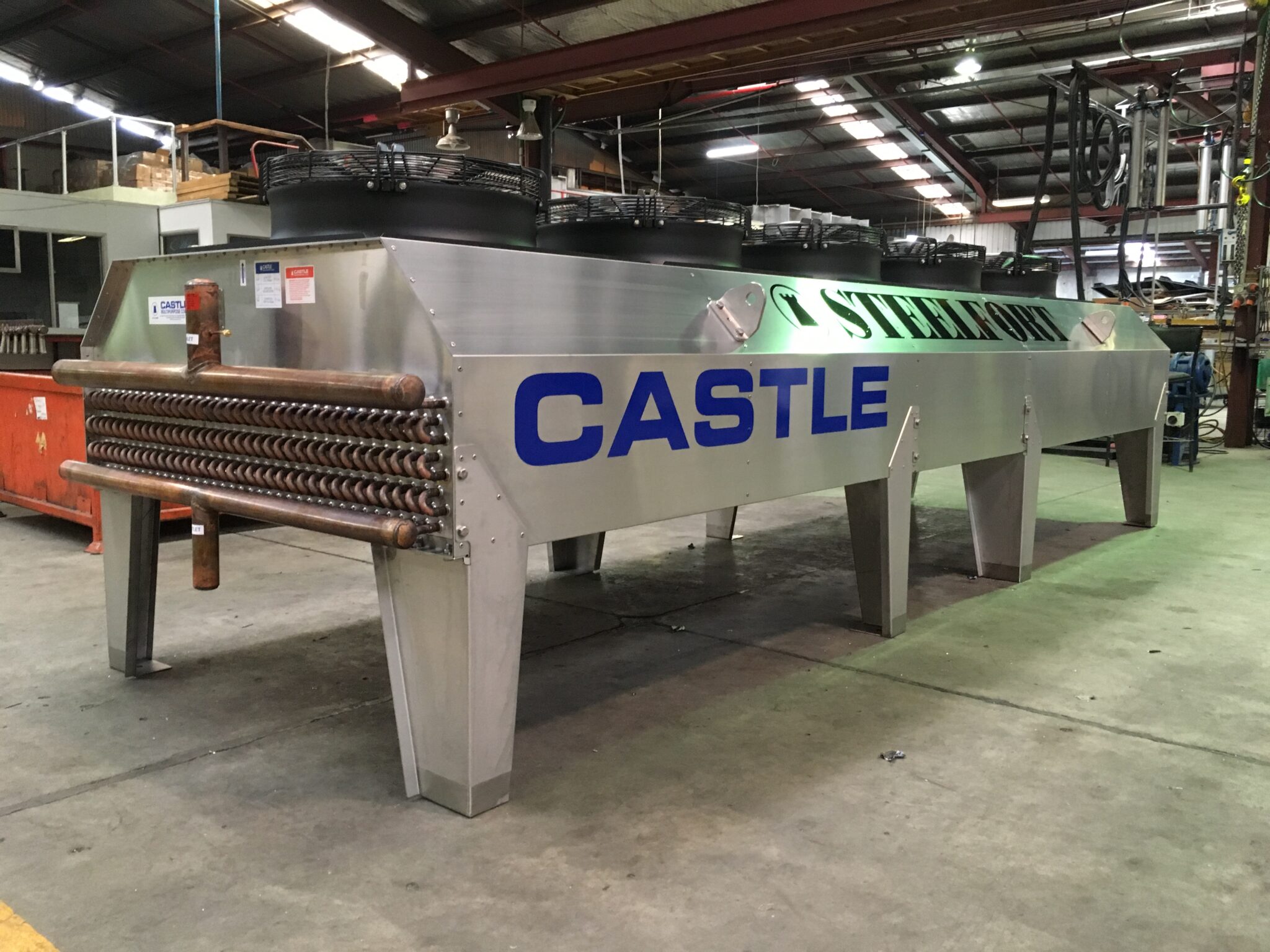 CASTLE Dry Coolers & Condensers
With our extensive design and manufacturing expertise, coupled with years of experience, we possess the agility to fabricate Dry Coolers and Refrigerant Condensers customized to the precise demands of commercial and industrial applications. Be it vertical or horizontal discharge configurations, our team excels in delivering bespoke solutions that guarantee peak performance and efficiency.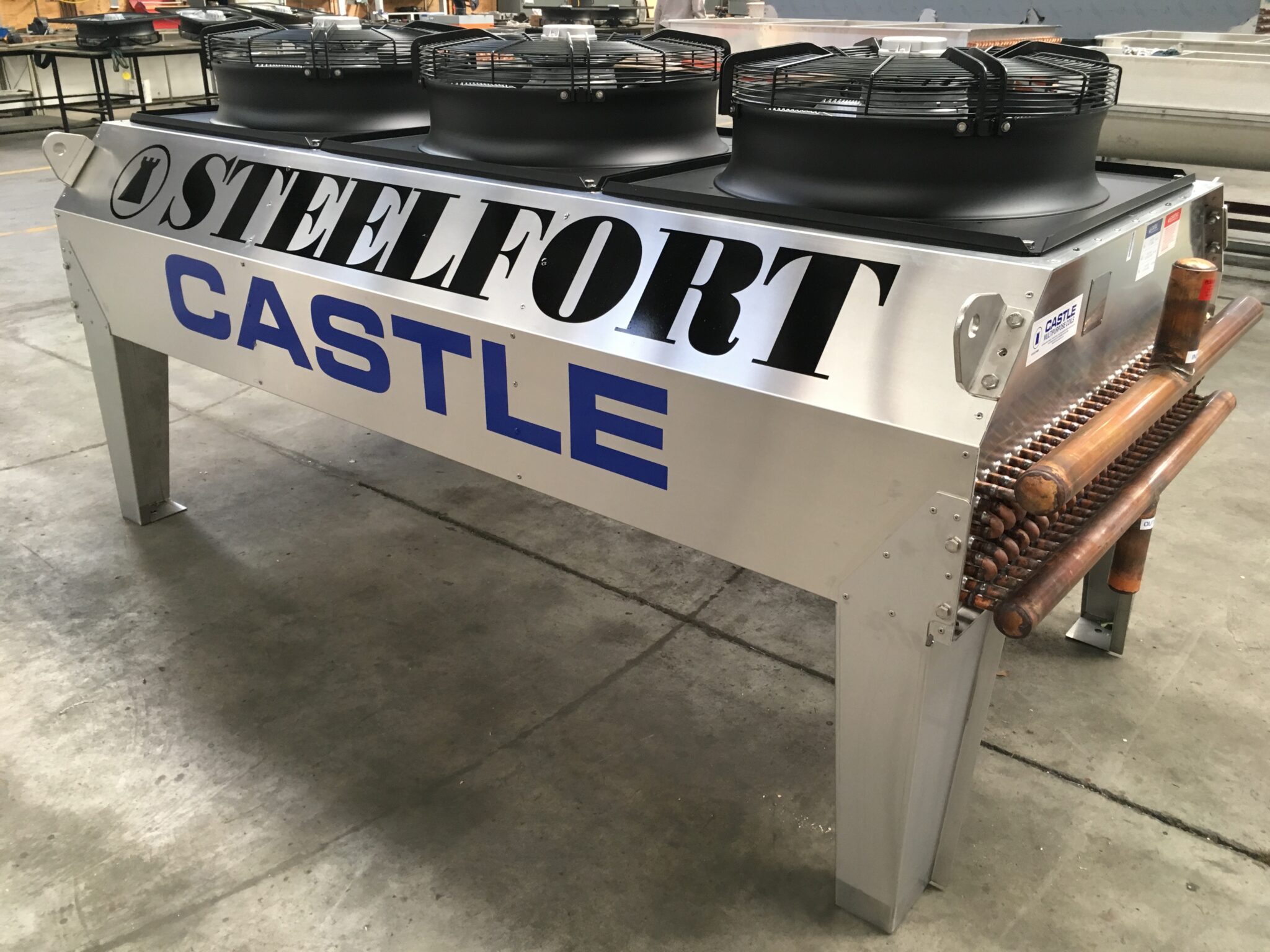 Products, Services & Capabilities
Our products are thoughtfully designed and engineered with aluminium or stainless-steel plate heat exchange fins, on 3/8″ or 5/8″ Copper or 5/8″ carbon, T304 or T316 core tubes.  Tube plates and core supports can be from copper, aluminium, T304, T316 or carbon steel.
We offer a range of valuable services that encompass translating concepts into precise cost estimates, providing advisory support and alternative solutions, and developing Certified Designs for a diverse set of industries. These sectors include Dairy, Viticulture, Horticulture, Aquaculture, Chemical, and Pharmaceutical industries.